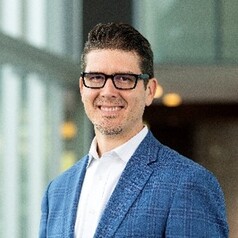 David Weis has been with AdventHealth for four years and is currently the President and CEO of AdventHealth Daytona Beach and the East Volusia Market. Previously He served as the President and CEO of AdventHealth DeLand, the COO for AdventHealth Daytona Beach, and as the COO at Adventist Health Ukiah Valley in Northern California. Under Weis's leadership, his facilities have achieved among other recognitions, Leapfrog Grade A ratings, Leapfrog Top Hospital, CMS 5-star ratings, Premier top quartile mortality performance, STS 3-star designation for its cardiovascular surgical program, and TAVR accreditation.
Weis has a passion for growing team members in innovative ways and driving high quality clinical results. He has been heavily involved since the inception of the LENS (Learning and Engagement System) platform on nursing units improving inter-department coordination and communication to increase patient safety. He has worked closely with leadership in the AdventHealth Unit Culture team as well as Safe and Reliable to ensure success and maximize opportunity to engage frontline teams. Weis co-presented with Safe and Reliable CEO Allan Frankel, MD at the 2020 IHI Conference on Managing Any Crisis with High Reliability Leadership. Weis has also developed several performance excellence departments over the years that focus on facility-wide process improvement and change management.
He began his career as a physical therapist at Adventist Health Ukiah Valley in northern California. During his nine years with the organization, he became the operations manager of rehabilitation services, was promoted to director of perioperative services, and then became the assistant vice president of operations before being promoted to vice president of operations and COO prior to transitioning to Florida.
Weis earned a Bachelor of Science in biology from Southwestern Adventist University in Keene, Texas. He went on to earn his Doctor of Physical Therapy from Loma Linda University in California and a Master of Business Administration in Healthcare Management from Quinnipiac University in Hamden, Connecticut.
He is a licensed physical therapist, a certified GE Master Change Agent, which utilizes a robust framework to manage organizational change most effectively. He is also an affiliate of the American College of Healthcare Executives.
Weis is married to Melanie and they share two children, Lucas (8) and Mark (7). In his spare time he enjoys spending time with his family, spending time boating, competing and training in CrossFit, cycling, and serving his community and local church.