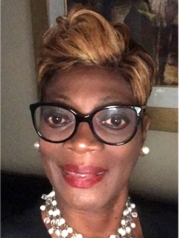 Mamie N. Oatis, a retired educator with thirty-five years of service with the Volusia County School System. She holds a BA and Masters degree in Special Education and in School Leadership and Administration.
Ms. Oatis began her career in education as a high school special education teacher at Spruce Creek High School, Port Orange. She moved on to administration in 1992 as an Assistant Principal at Pine Ridge High and later Principal Intern at Heritage Middle School in Deltona.
In 2002 she was appointed Principal of Southwestern Middle School, Deland where she served for thirteen years. Ms. Oatis was named a VCS Secondary Principal of the Year.
She has dedicated her career and her life to helping students succeed in school and beyond and has an unwavering belief in the potential of all children. Ms. Oatis extends her dedication to educating families in her current role as Director of Food Brings Hope Family Literacy Initiative in Pierson.